Renew And Duo Sexual Function Enhancement
Alma Duo Now Available at Renew!
State of the Art Sexual Function Enhancement for Men and Women!
Renew, the Central Illinois premiere provider of hormone health, is proud to announce that we are an Alma Duo provider. Duo is a state-of-the-art procedure to improve sexual function in both men and women.
Dr. Rohde is the only board-certified functional medicine provider of hormone balancing and restoration and has long been helping patients from all over the Midwest. He has helped thousands of patients enjoy the health benefits of safely restored hormone levels which affect dozens of vital body functions. These include brain health, heart health, musculoskeletal health, and of course sexual health, among hundreds of other benefits! Duo is the perfect complement to hormone restoration.
Click Here for: 1) Female Hormone Therapy Information or 2) Male Hormone Therapy Information
How Does it Work?
Duo utilizes focused low-intensity shockwave therapy (LI-ESWT). This is focused sound waves, NOT electricity! Shockwave therapy has been safely used in Urology to break up kidney stones (lithotripsy), orthopedics to relieve pain with injuries and stimulate bone growth to speed healing of fractures, and in cardiology to promote new blood vessel growth or angiogenesis.
Duo in sexual function applications:
Duo' focused shock waves stimulates healing responses that release growth factors and activate our healing stem cells to induce angiogenesis to restore & provide better blood flow. If you want details on the healing factors stimulated and the beneficial response that is produced, here is a graphic: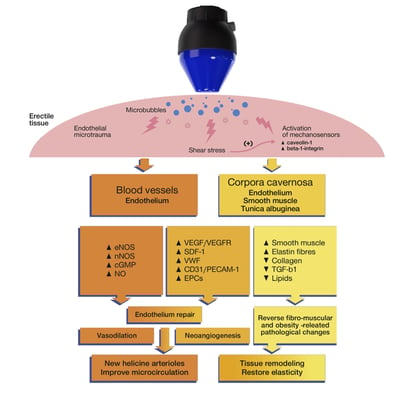 What's Involved?
Duo requires only six 15 minute treatments done twice weekly due to its higher effectiveness when compared to other treatment modalities. The Duo technology uses a focused electrohydraulic technology that provides deeper penetration which bypasses superficial nerves which provides another improvement in ESWT treatment – no pain. Other treatment modalities that have "wave" in their name have a lower depth of penetration which can affect the superficial nerves and cause pain during treatment as well as for a while afterward. They also require many more treatments, up to 12, due to their lower depth of penetration.
Focused LI-ESWT compared to less effective therapies: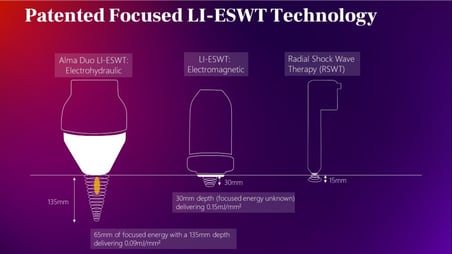 Superior results without pain – Duo wins!
If you are interested in this revolutionary treatment, please click here or on the "Alma Duo Procedure" button below to fill out a short questionnaire to see if you are a candidate for the procedure. Upon completion of the paperwork, our Office Manager will contact you. If you have not been evaluated for optimal hormone function we encourage you to arrange an appointment for evaluation of hormones which affect sexual function.
Click Here for: 1) Female Hormone Therapy Information or 2) Male Hormone Therapy Information
Contra-Indications for the Procedure:
Pregnancy

Pacemaker

Steroid Injection in the last 6 weeks

Cancer Chemotherapy

Infection or Tumor in the Sexual Organs
Scientific Literature Support
LOCATION
Renew Total Body Wellness Center
3798 E. Fulton Avenue
Decatur, IL 62521
Phone: 217-864-2700
Fax: 217-422-0004
OFFICE HOURS
Monday

8:00 am - 5:00 pm

Tuesday

8:00 am - 5:00 pm

Wednesday

8:00 am - 5:00 pm

Thursday

8:00 am - 5:00 pm

Friday

8:00 am - 12:00 pm

Saturday

Closed

Sunday

Closed